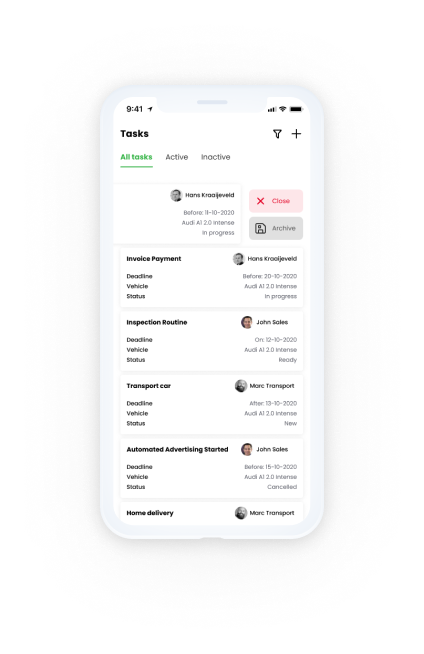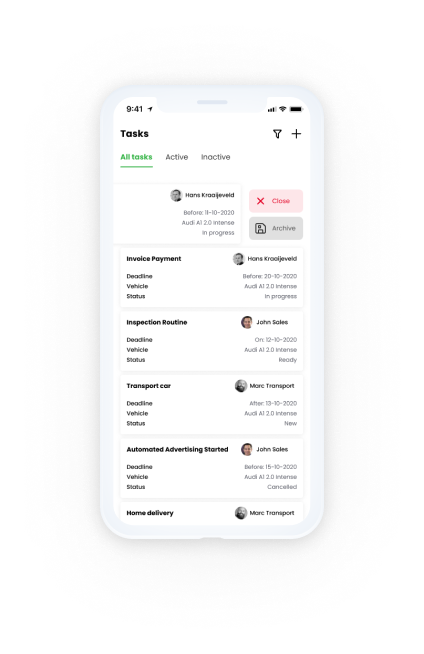 More Grip. Less work.
Full control over your workflow. Actions that start automatically and continuous checks to make sure everything is running the way you want.
Customers
For service departments and companies within Automotive, for example:
Valuation companies
Import service providers
Repairers
Export service providers
Leasing companies
Transparent process progress
Centralized files
Streamlined communication with Customer and Suppliers
Maximum Insight

Improved insight into the result at car and company level

More efficient use of time of the time spent within the company

Insight into which car is where in the process

Management information to further optimize processes

Insight into the time commitment of the services performed per car

Ready for further growth
Challenges
Progress check
The progress of the entire process was difficult to get transparent. A great deal of knowledge regarding the files lay with the individual employees.
Challenge done
Difficult to manage
Because this company worked with various internal and external parties, it was difficult to generate insight. As a result, management was insufficiently able to make adjustments.
Challenge done
Solution
How we handled problems and challenges.
All customer data and the data relating to the car are registered.
Access to the system for all customers and suppliers via the customer portal.
Customers and Suppliers can upload documents and download them afterwards.
Communication is streamlined through the customer portal and automatic emails.
Processes are set up with a task structure and largely automated.
Changes to the process are easy to implement yourself.
All activities are automatically logged.
BI Dashboard
Through BI Dashboards tailored to this process, Compound is optimally transparent